Description
Grapefruit hair gel, hair styling
Styling gel for skilful modeling, strong hold and creative styling. Without sticking the hair, residue-free – Grapefruit hair gel hair styling hair gel osynthetic fragrances, dyes and preservatives. Without PEG and silicones.
For wetlook hairstyles, spread hair gel in damp hair and allow to dry air. For hedgehog hairstyles or to emphasize individual strands or to set cheeky accents, incorporate hair gel with your fingertips into the blow-dry edging hair.
TIP: If you like to blow-dry your hair, distribute hair gel afterwards and then stop combing.
The essential oil of the lively grapefruit gives the hair a sparkling and fruity fragrance – for a carefree, good-humored start to the day. The gel provides natural support and supports creative styling. Without sticking the hair, can be combed out without residue.
Ingredients:
AQUA, SORBITOL, PENTYLENE GLYCOL, ALOE BARBADENSIS LEAF JUICE*, MICROCRYSTALLINE CELLULOSE, GLYCERIN, POLYGLYCERYL-4 CAPRATE, DEHYDROXANTHAN GUM, LIMONENE **, ALGIN, CALCIUM ALGINATE, PARFUM , CITRIC ACID, LINALOOL **,CITRAL**, ASCORBIC ACID, GERANIOL **. *certified organic, **part of natural essential oils * from conttr. Organic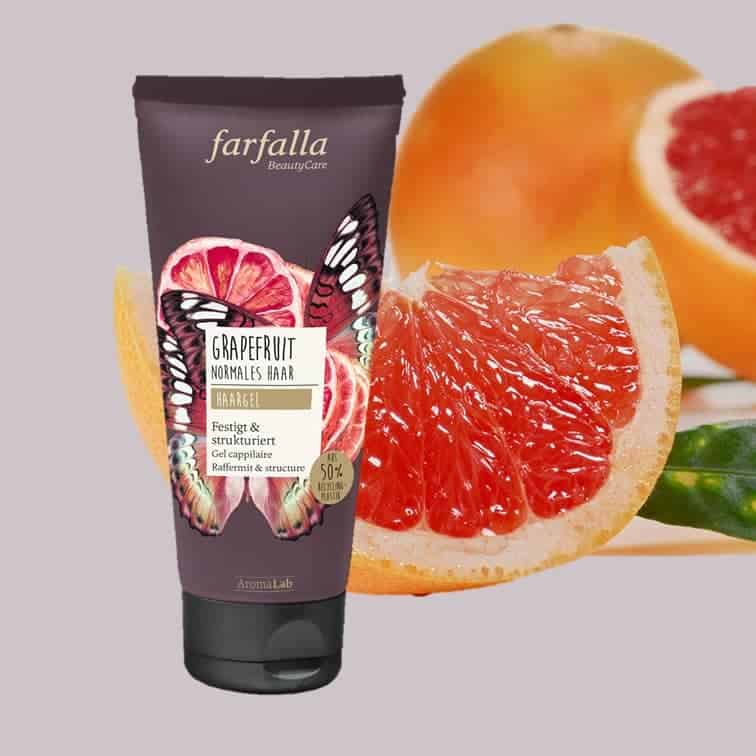 Grapefruit, hair gel hair styling Farfalla
€

11,90 "*"