Immortellenwasser bio alcohol-free from Farfalla
€8,50 "*"
Includes 19% Mwst.
(

€

11,30 / 100 ml)
Delivery Time: approx. 2-3 working days
75 ml
Plant water / hydrolate
Lat: Helichrysum italicum
Plant part: Herb
Manufacture: Distillation
Origin: France
Description
Immortellenwasser bio alcohol-free
The Italian everlasting flower grows in southern Europe and reaches heights of 20 to 60 centimeters. There it has long been considered a miracle cure for everything. It has a herbaceous, spicy, slightly honey-like scent. Farfalla's organic alcohol-free immortelle water comes from France.
An aromatherapy hydrolate / plant water is the water that is created during the steam distillation of plants to produce essential oils. It contains the water-soluble plant components and has, for example, effects similar to the corresponding essential oils. However, the properties are milder and the aroma is lighter. Ideal for situations where gentle aromatherapy is preferable – especially when treating babies, children and the elderly. Apart from that, the effect of hydrolates is not weakened by their milder influence. Their therapeutic properties have proven to be highly effective as they contain the water-soluble components of the plant and our body consists of 60% water. This is an advantage when it is absorbed by our body. Another important factor is that the skin has a pH of around 5.5, so facial care should maintain that pH. Hydrolates (plant water) have a natural pH value of 3-6 and are therefore perfect for ensuring the skin's balance.
Properties: Helps with: aging skin, excellent for facial skin, soothing for bruises, good for bruises, for gargling after dental treatments.
Tip: Combined as a spray 1: 1 with rose hydrolate / water, it regenerates parchment-like, sensitive skin.
Please store in a cool place! Use quickly after opening!
Ingredients: organic immortelle water, natural preservatives (radish root extract)
INGREDIENTS: HELICHRYSUM ITALICUM FLOWER WATER *, LEUCONOSTOC / RADISH ROOT FERMENT FILTRATE, AQUA, LINALOOL **. * certified organic / ** part of natural flower water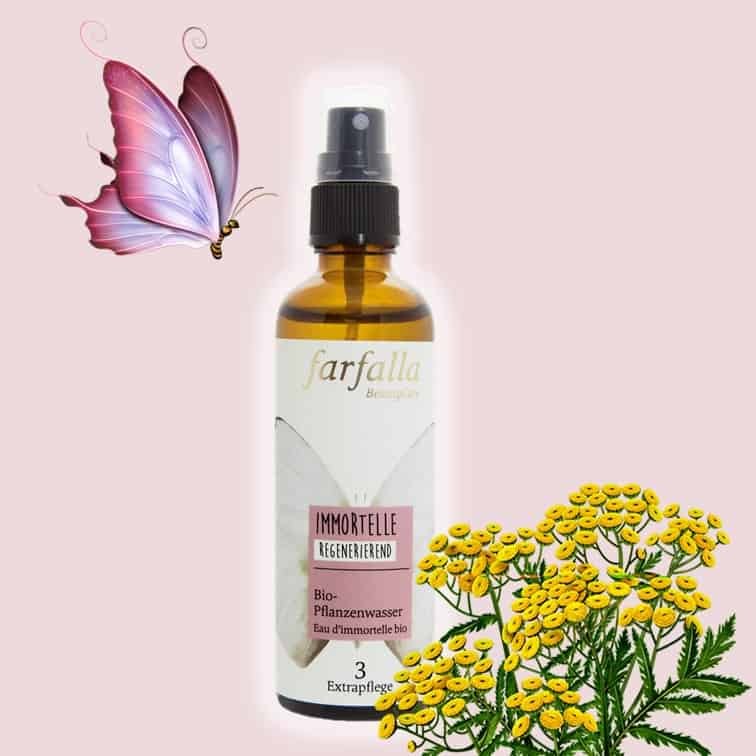 Immortellenwasser bio alcohol-free from Farfalla
€

8,50 "*"