Honey extract organic essential oil from Primavera
€22,90 "*"
Includes 19% Mwst.
(

€

458,00 / 100 ml)
Delivery Time: approx. 2-3 working days
5 ml
Biol. Name: Mel from Apis mellifica
Origin: France
P plant part : Honey / honeycomb
Manufacturing: Alcohol extraction
Scent: Warm, sweet, wax note
Description
Honey extract bio
The Honey bees ( Apis ) are a genus from the family of the real bees (Apidae). Depending on the taxonomic view, the genus comprises seven to twelve state-forming species, most of which are native to Asia. The western honey bee is of the greatest importance for global beekeeping; In many Asian countries, the Eastern honeybees originally found there are also kept in simple log hives or hollows in walls. These two species breed in the shelter of caves and were thus able to spread very far out of the tropical regions into more moderate climatic zones, as a result of which regionally different subspecies have emerged, especially in the case of the western honeybee. A natural boundary of the settlement is often formed by mountains or islands (Wikepedia). Honey extract bio is extracted from honeycombs using alcohol as a sweet-smelling, mild essential oil.
Home: Europe, America, Australia, Africa and Asia
It is particularly suitable for children who are uprooted and insecure due to external circumstances (moving, divorce, etc.).
800-850kg honeycomb = 1ltr. Honey extract bio
Before internal use, please consult specialist books, doctor or aromatherapist.
The effect on the soul is: Relaxed, calming, mentally strengthening, harmonizing, helps with sleep disorders and stress, calming with nervousness, mood-enhancing and comforting with grief, balancing and grounding with everyday stress and overwork, building and stimulating with listlessness and lack of energy, soothing and sleep-inducing, helps against nightmares and Fear of loss
The effect physically: Skin-regenerating, antispasmodic, stimulates the metabolism of the skin, loosens muscles, supports colds, caring for the skin for chronic skin diseases, relaxing for overexertion, anti-inflammatory for skin diseases, reduces fever for colds
Ingredients: Alcohol, Honeycomb Extract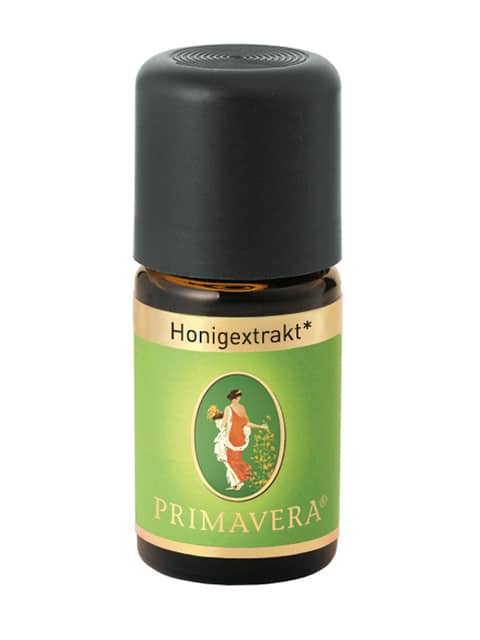 Honey extract organic essential oil from Primavera
€

22,90 "*"