Aroma sauna eucalyptus peppermint organic
€16,90 "*"
Includes 19% Mwst.
(

€

14,00 / 100 ml)
Delivery Time: approx. 2-3 working days
Sauna mix
100ml
Eucalyptus peppermint organic
Recommended by fragrance experts from the German Saunabund!
Effect: invigorating
Scent: cool, clear
Description
Aroma sauna eucalyptus peppermint organic
This combination of scents enhances the beneficial effect of the sauna with a refreshing mint aroma. Clarifies and refreshes. With organic alcohol. The Aroma sauna eucalyptus peppermint organic: v Developed by fragrance experts – recommended by the German Sauna Association!
The effect is: invigorating and refreshing
The scent is: cool, clear
Main ingredients:
eucalyptus (Eucalyptus globulus) is: Refreshing, invigorating, vitalizing
Scent : Campaign-like
peppermint (Mentha piperita) is: invigorating, stimulating, promotes concentration
Scent: Cool, of course
hyssop (Hyssopus officinalis) is: activating, invigorating, vitalizing
Scent : Slight honey note
Application:
2-5 capsules in 1 liter of water
Mix 10 to 25 ml (approx. 2-5 cap fillings) of the concentrate with one liter of water. Then 15 to 20 per cubic meter of sauna room
Pour g of this mixture onto the red-hot sauna stones. Wrap the rising steam with a towel. Deep
take a deep breath and relax.
Ingredients of Aroma Sauna Eucalyptus Peppermint bio
Alcohol * bio, water, eucalyptus globulus * bio, peppermint * bio, hyssop * bio, etc.
Please note the hazard warnings on the product:
Highly flammable liquid and vapor. May cause allergic skin reactions. Toxic to aquatic organisms with
long-term effect. Must not end up in the hands of children. Away from heat / sparks / open flames / hot surfaces
keep away. Do not smoke. Wearing safety gloves. IF ON SKIN (or hair): All soiled, soaked
Take off clothing immediately. Wash skin with water/shower. Store under lock and key. Contents / container of the
Dispose of problematic waste.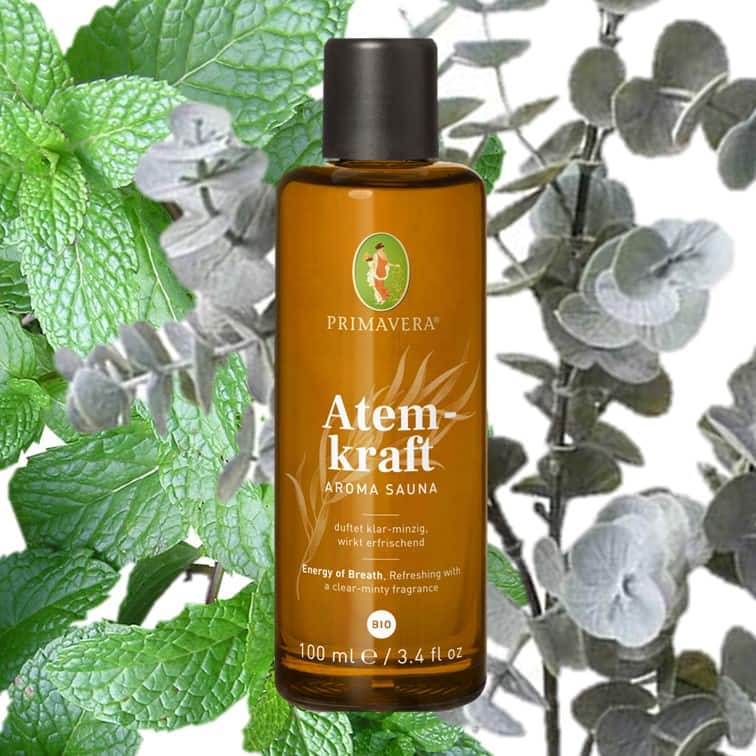 Aroma sauna eucalyptus peppermint organic
€

16,90 "*"