Organic alcohol-free peppermint water Farfalla
€8,50 "*"
Includes 19% Mwst.
(

€

11,30 / 100 ml)
Delivery Time: approx. 2-3 working days
75 ml
Plant water
Lat: Mentha piperita
Plant part: Herb
Manufacture: Distillation
Origin: France
Preservation: radish root extract
Description
Peppermint water bio alcohol-free
A real hydrosol / plant water is the water that is created during the steam distillation of plants for the production of essential oils. It contains the water-soluble plant components and has effects similar to the corresponding essential oils, but the properties are milder and the aroma lighter. The organic alcohol-free peppermint water from Farfalla comes from France. Ideal for situations in which gentle aromatherapy is preferable – especially when treating babies and children, elderly or highly sensitive people or people who are already severely weakened by their illness. However, the effect of hydrolates is not weakened by their milder influence. On the contrary: Their therapeutic properties have proven to be highly effective, as they contain the water-soluble components of the plant and our body consists of 60% water, which is very beneficial when our body absorbs the subtle properties.
Hydrolates in the kitchen
Hydrolates are becoming increasingly popular as an aromatic ingredient in the kitchen. New flavors are tried out. Desserts and ice cream in particular can be wonderfully flavored. Hydrolat gives tea a special note. Refine your salad or fruit salad with organic alcohol-free peppermint water or mix yourself a summer drink. Some top chefs refine their meat sauces with organic alcohol-free peppermint water. Try it out.
vitalises tired skin and is suitable as a clarifying facial tonic for blemished skin.
It is often used as a cooling spray for the face and décolleté – it is wonderfully refreshing and cooling not only in summer, but also during hot flashes.
It is particularly recommended for gargling for fresh breath.
Tip: As a refreshing kick when traveling, when driving, as well as for cleaning your hands in between.
Alcohol-free peppermint water
Effect physically: Cooling, refreshing, decongestant, slightly anti-infectious and anti-inflammatory. It is digestive; relieves itching, relaxes
Mental: Stimulating, concentration-enhancing, refreshing, invigorating – relaxing. It purifies the room air, is motivating and activating
Please store in a cool place! Use quickly after opening!
INCI: MENTHA PIPERITA LEAF WATER *, LEUCONOSTOC / RADISH ROOT FERMENT FILTRATE, AQUA, LINALOOL **. * certified organic / ** part of natural flower wateMentha piperita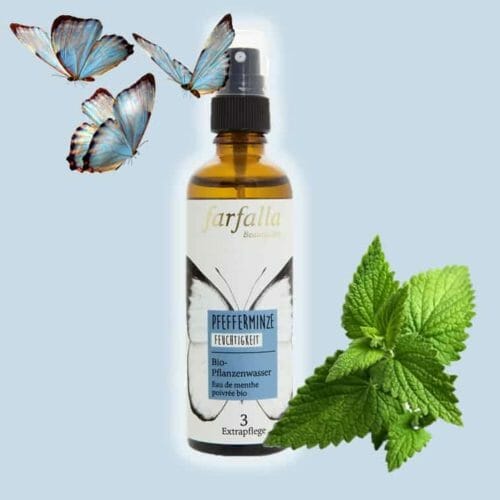 Organic alcohol-free peppermint water Farfalla
€

8,50 "*"