Rosemary Verbenone organic essential oil from Primavera
€12,90 "*"
Includes 19% Mwst.
(

€

258,00 / 100 ml)
Delivery Time: approx. 2-3 working days
5 ml
Bot.Name: Rosmarinus officinalis ct verbenon
Plant part: herb
Production: distillation
Origin: France
Description
Rosemary Verbenone bio
Rosemary belongs to the mint family (Limiaceae) and is an evergreen smoke. The height
of
Rosemary Verbenone
is 50 cm to 2 m. The home of rosemary is Europe and Africa.
Rosemary or Verbenone
French rosemary: Rosemary from France is especially good for our digestive system and should therefore not only be considered as an essential oil but also in the form of edible oil, tea and as a spice.
There are three chemotypes of rosemary, depending on the location. They differ in their scent and active ingredient profile.
1. Rosmarinus officinalis c . t . cineole.
2. Rosmarinus officinalis ct camphor
3. Rosmarinus officinalis ct verbenon
For 1ltr. Oil you need about 100kg of herb.
Before internal use, please consult specialist books, doctor or aromatherapist.
Physical effect: Antibacterial, virus-inhibiting, blood circulation-enhancing, blood-forming, Help by: Muscle pain, sports injuries, Liver strain , Liver weakness, Anemia to
Emotional effect: Invigorating, activating, refreshing, vitalizing, promoting concentration, Help by: Morning fatigue, discouragement, weakness, jet lag, um
Ingredients: Rosmarinus Officinalis (Rosemary) Leaf Oil, Limonene **, Linalool **
** natural components of essential oil
Additional information
| | |
| --- | --- |
| Weight | 55 g |
| A-Z | |
| Duftnote | |
| Duftprofil | |
| Element | |
| Wirkung | |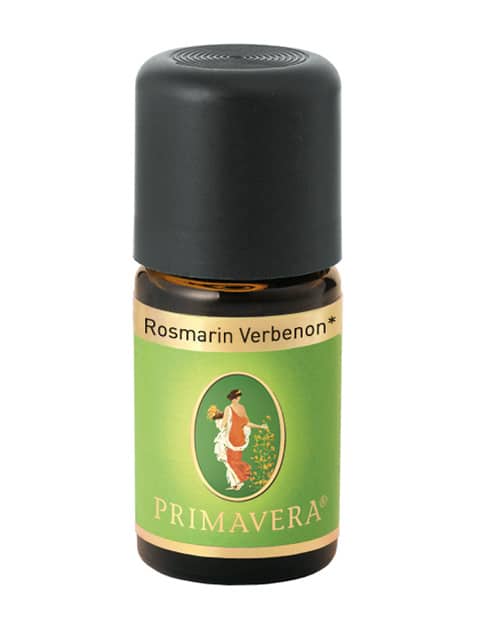 Rosemary Verbenone organic essential oil from Primavera
€

12,90 "*"