Black pepper organic essential oil from Primavera
€9,90 "*"
Includes 19% Mwst.
(

€

198,00 / 100 ml)
Delivery Time: approx. 2-3 working days
5 ml
Biol. Name: Piper nigrum
Origin: Sri Lanka,
Part of the plant: fruit
Manufacture: Distillation
Scent: spicy, warm, sharp
Description
Black pepper organic
Plant family: Pepper plants (Piperaceae). The pepper bush (Piper nigrum) is also called black pepper. To distinguish it from similar spices, one also speaks of real pepper. Home: In all tropical areas, especially in Southeast Asia The pepper plant is a perennial Climbing plant that grows up trees and can be ten meters high. In culture, the plant is kept at a height of 3 to 4 meters. Primavera black pepper comes from Sri Lanka.
Black pepper is obtained by drying the unripe fruit and is very durable. That is why it was a sought-after commodity in the spice trade even in antiquity. Today it is used as a spice, in food flavoring and in perfumery.
Distinctions:
1. Green pepper is obtained from unripe fruits
2. Black pepper also but just about to ripen
3. Red pepper made from ripe fruits
4. White pepper obtained from peeled, ripe fruits
From about 500kg of fruit you get 1ltr. essential oil
The oldest pepper found in Germany is probably the "Bremer Pfefferkorn" from the 13th century. Pepper was precious and was at times outweighed by gold. Pepper sacks were traders who got rich with trade.
Before internal use, please consult specialist books, doctor or aromatherapist.
The effect on the soul is: Stimulating, invigorating, sexually stimulating, vitalizing, helps with: jet lag, tiredness, discouragement, um
The effect physically : Antibacterial, anti-inflammatory, stimulates blood circulation, warming, analgesic, stimulates the appetite, stimulates the function of the pancreas, kidneys and liver
INCI: Piper Nigrum (Pepper) Fruit Oil, Limonene **, Linalool **
** natural components of essential oil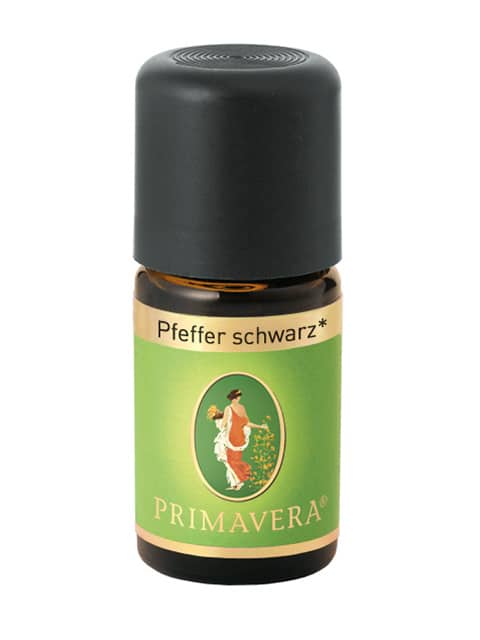 Black pepper organic essential oil from Primavera
€

9,90 "*"