Oud (agarwood) 5% Primavera essential oil
€69,90 "*"
Includes 19% Mwst.
(

€

1.398,00 / 100 ml)
Delivery Time: approx. 2-3 working days
5 ml ..
5 %Oud-95% alcohol
Bot.Name: Aquilana agallocha.
Origin: Cambodia
Manufacture: Distillation
Plant part: Wood
Description
Oud (agarwood) 5% spirit 95%
The oud agarwood tree is a large, evergreen deciduous tree that reaches heights of growth of up to 40 m and trunk diameters of 1.5 to 2.5 m. The family are the Salbast plants (Thmelaeaceae).
His homeland: Mainly: Cambodia and Thailand.
About 10 percent of the trees are infected by a fungus.
The tree develops a defense mechanism against the fungal infection that changes its core for decades or even centuries. The tree with otherwise soft wood reacts from the inside out with a compaction by a very hard secretion / resin, which can solidify the wood such as buffalo horn or stone. We are only concerned with this secretion / resin. If such a "fully reacted" wood is distilled, you get oud oils.
The wood that has been attacked by mold develops an unusual scent. Regardless – or precisely because of this – the wood is used to obtain incense and for oil distillation. Most of the oil and also the wood production is sold to the Arab countries. Oud oil, also known as eagle wood or agarwood, has an old tradition in mysticism as a fragrance for initiations and self-knowledge. Pure oil is very rare – a rarity that has its price. The deep, earthy scent gives rise to images of caves, roots and archaic experiences.
Goes well with: rose , frankincense, myrrh, cassia, cinnamon, tolu, clove, oakmoss, vetiver
Use: In the fragrance lamp, for sensual massage and body oils, for inner gathering and ceremonies.
Before internal use, please consult specialist books, doctor or aromatherapist.
Physical effect: Antispasmodic, lymphatic system decongestant, helps with: varicose veins, venous problems, around
Emotional effect: Balancing, relaxing, calming, nerve-strengthening, sexually stimulating, mood-enhancing, um
Ingredients: 5% oud, 95% alcohol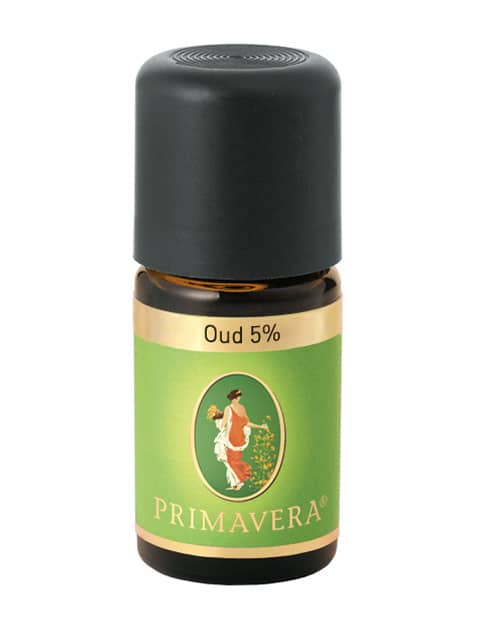 Oud (agarwood) 5% Primavera essential oil
€

69,90 "*"