Myrtle Moroccan essential oil bio Neumond
€9,90 "*"
Includes 19% Mwst.
Delivery Time: not specified
5ml
Neumond Germany
Top-Heart Note / Refreshing
Myrtus communis
fresh clear aroma
for aromatherapy, Ayurveda, cosmetics, perfumery
Description
Moroccan myrtle essential oil bio 5ml
Moroccan myrtle essential oil – high in Myrtenylacetat. Fresh, green, clear aroma, yet softer than traditional Turkish or priced myrtle. More skin friendly and also in therapy for children. In addition to the traditional combinations of the fragrance, its menthol and eucalyptus notes with a distant sound of violet add an unexpected sound to floral and sweet compositions. Beautiful rich and versatile aroma.
The Myrtle plant is often referred to as the "Unknown Myrtle" In ancient times, myrtle was dedicated to Aphrodite and is still a popular component of wedding bouquets. It is an evergreen shrub native to the Mediterranean. In myrtle, both leaves and berries are aromatic. Myrtle hydrolat "Eau d'anges" (Angelic water) gives the face a flawless color. In naturopathy, it is used for problems with the respiratory system, being a powerful expectorant and for problem skin. Strengthens the immune system, improves indoor air quality. On the way, it helps to maintain clarity of thought and concentration, avoid unnecessary emotions. Mixed with citrus and pine oils, it is well suited for the sauna.
Depending on the climate, soil and water, the plants form a unique mixture of active ingredients and aromas that determine the effect of this variety. These varieties are called chemotypes.
Turkish myrtle
50% oxides, 27% monoterpenes, esters, monoterpenols, sesquiterpenes and others
Moroccan myrtle
45% monoterpenes, 22% acetates, 17% oxides, sesquiterpenes and monoterpenols
Myrtle of the Andes
75% monoterpenes, 10% oxides, sesquiterpenes and other monoterpenols
Aroma Tip:
Massage oil Silence
2 drops of myrtle
3 drops of pink geranium
2 drops of myrrh
2 drops of Atlas cedar
mix with 50 ml almond oil
German name: Myrte bio
Latin name: Myrtus communis
Production method: Steam distillation from leaves and branches
Country of origin: Morocco – controlled organic farming
Fragrant note: Upper-Cardiac
Aroma type: Animating
Aroma profile: fresh, green, clear, soft, with menthol notes.
Impact: helps to think clearly and clearly, clears old grievances and disappointments, helps to dump the accumulated burden, strengthens intuition, harmonizes.
Harmonious combinations: lavender, rosemary, clary sage, pine and citrus esters.
Application: in aroma lamps, aroma fountains, in inhalants and compresses, in anti-cold sprays and balms, in massage and care mixtures.
Dosage: add no more than 20 drops per 50 ml of base to skin care products.
Manufacturer: Neumond Germany
Additional information
| | |
| --- | --- |
| Weight | 50 g |
| Duftnote | |
| Duftprofil | |
| Element | |
| Wirkung | |
| A-Z | |
| Inhalt | |
| А-Я | М |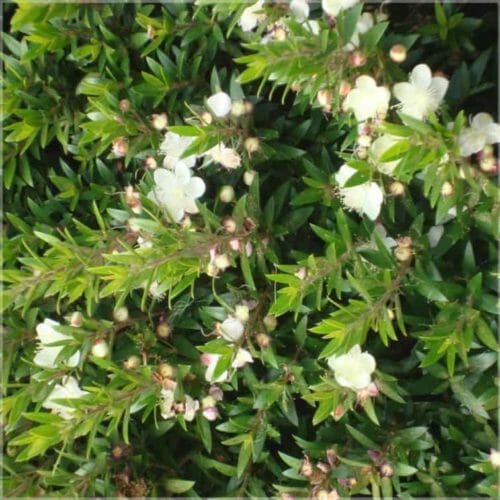 Myrtle Moroccan essential oil bio Neumond
€

9,90 "*"