Lavender organic wild collection from the Farfalla Pyrenees
€11,90 "*"
Includes 19% Mwst.
(

€

198,00 / 100 ml)
Delivery Time: 3-4 working days
5 ml
Botanical name: Lavand. angustifolia ssp. angust.
Plant part: Flower risps
Manufacture: Water vapour destilation
Origin: France
Quality: conttr. bio-Wild collection
Description
Lavender organic wild collection
Lavender organic wild collection thrives at heights of 900 – 1800 meters and is an inconspicuous, small plant compared to lavender cultivated in fields. But it can be used to win the strongest and best essential lavender oil!
Mountain lavender (Lavandula angustifolia, Syn. Lavandula officinalis, Lavandula vera) is a plant of the genusLavender (Lavandula)and belongs to the lip-blooded (Lamiaceae).
The homeland of lavender is actually the former Persia, it came from the Canary Islands to the south of France. Other sources say lavender came to Europe through Alexander dG.
A rare treasure – and a Farfalla specialty that we can only offer in limited quantities. The essential oil of the organic lavender collection is SIMPLY THE BEST. The collection is laboriously handcrafted, as machines cannot be used in the mountains. The higher the mountain lavender grows – the better the quality.
Approx. 120kg of crackers are necessary to produce 1kg of oil
Lavender organic wild collection – the jack-of-all-trades among essential oils mixes well with them
Neroli, oranges,
Geraniums, pine, clary sage, peppermint , Palo Santo, silver fir, Swiss stone pine , Lemon oil
Before internal use, please consult specialist books, doctor or aromatherapist.
Lavender – best mountain lavender or lavender extra, belongs in any home pharmacy! It is one of the few oils that can also be applied pure.
Help physically: Diseases of the respiratory organs, ear, headache and migraine. It also helps with bloating, diarrhea, nausea, depressive moods, depression, insomnia, nervousness. It also helps with palpitations, rapid heart beat, high blood pressure, menstrual problems. Finally, also in abscesses, acne, skin inflammation, wounds, insect bites, burns, sunburn, muscle strains, sore muscles, sprains, rheumatism, sciatica.
Help emotionally: Solves fears and soothes. Calming and is stress-relieving, mood-enhancing, strengthens the nerves, reduces tensions, also helps with insomnia and irritability. In addition, in depressive moods, imbalance, anxiety and stress
Tip:
Anti-pregnancy strip oil: 45ml organic almond oil, 15ml organic centella oil, 15ml organic wild rose oil, 12 drops of wild mountain lavender, 3 drops of neroli, 5 drops of sandalwood. Massage daily into the corresponding body parts.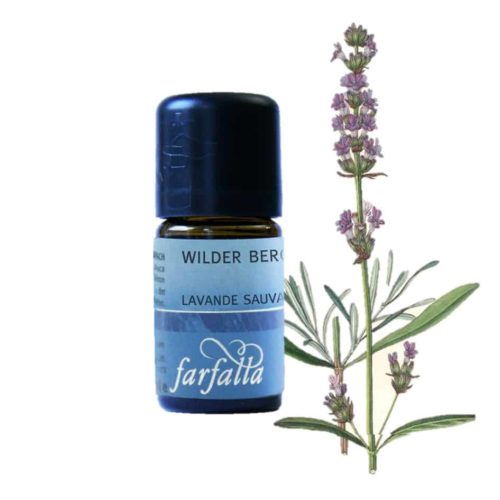 Lavender organic wild collection from the Farfalla Pyrenees
€

11,90 "*"