Hyssop bio essential oil from Primavera
€13,90 "*"
Includes 19% Mwst.
(

€

278,00 / 100 ml)
Delivery Time: approx. 2-3 working days
5 ml
Bot.Name: Hysssopus officinalis
Plant part: Herb
Production: distillation
Scent: spicy, sweet and has a slight honey note
Origin: Spain
Description
Hyssop bio
hyssop ( Hyssopus officinalis ), also Bee herb , Scented soup , Real hyssop , Verbena , Eisop , Esope , Spice sop , Heisop , Hisopo , called. It is a dwarf shrub up to 60 cm high and belongs to the mint family (Lamiaceae). The upset grows in Southeast Europe, North Africa and the Middle East. The name hyssop comes from the Hebrew אֵזוֹב ('ésóv) for' sacred herb '. The plant has been cultivated as a herb and medicinal plant since the 16th century. Primavera hyssop bio comes from Spain.
Approx. 100kg of herb are used for 1ltr. essential oil needed.
Essential hyssop bio oil is very strong and should only be used with care.
Good with bergamot, verbena oil, Lavender oil , Clary sage oil, myrtle , Rosemary oil, sage, silver fir, Swiss stone pine combinable
Before internal use, please consult specialist books, doctor or aromatherapist.
Use only a very small dose of hyssop bio. It has a neurotoxic effect and is therefore not suitable for people suffering from asthma attacks. Epileptics, people with high blood pressure and pregnant women must not use hyssop oil under any circumstances. Not suitable for children!
Helps mentally: Stimulating, activating, revitalizing when exhausted, refreshing, enhances concentration. Also for fear, depression, exhaustion and also supportive when stimulating intellectual work
Helps physically: Strong expectorant, is antibacterial, anti-virus, increases blood pressure, stimulates the appetite for colds, strengthening after illnesses, stimulates the appetite. Also helpful for cystitis, bronchitis, herpes. Finally, supportive with cough and liver weakness.
INCI: Hyssopus Officinalis Leaf Oil, Limonene **, Linalool **
** natural components of essential oil
Additional information
| | |
| --- | --- |
| Weight | 55 g |
| A-Z | |
| Duftnote | |
| Duftprofil | |
| Element | |
| Wirkung | |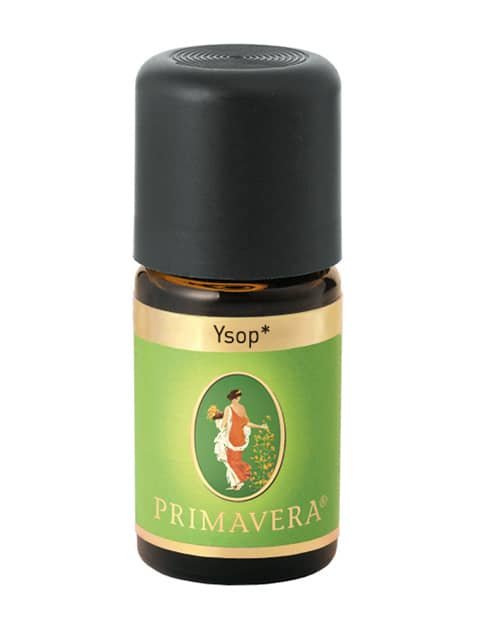 Hyssop bio essential oil from Primavera
€

13,90 "*"