Frangipani Absolue Essential Oil 20% from Primavera
€29,90 "*"
Includes 19% Mwst.
(

€

598,00 / 100 ml)
Delivery Time: approx. 2-3 working days
5ml
Bot.Name: Plumeria acutifolia
Plant part: leaf
Production: hexane extraction
Origin: India
Description
Frangipani Absolue Essential Oil 20%
The Frangipani is a deciduous tree or shrub up to 4m high. It belongs to the family of the dog poison plants (Apocynaceae). It is one of the most beautiful and fragrant flowering trees in the tropics. Its origin is probably in Central America and the Caribbean. Today mainly in India.
Kamaha'o Melia is what the Hawainers call the frangipani flowers. The Hawaians' welcome wreath consists of frangipani flowers.
In Buddhism, the frangipani flowers are a symbol of immortality. In India, the frangpanic tree is also called the temple tree.
The frangipani flower is the state flower of Nicaragua.
The Frangipani has also inspired many flower lovers and so he can be found in our culture in many winter gardens.
Before internal use, please consult specialist books, doctor or aromatherapist.
Effect physically: Pain relieving, fungicidal, skin caring, nervous system relaxing, um
Effect on the soul: Relaxing, balancing, inspiring, sexually stimulating, erotic, um
Ingredients: Alcohol, Plumeria Acutifolia Flower Extract, Benzyl Salicylate **, Geraniol **, Benzyl Benzoate **, Linalool **
** natural components of essential oil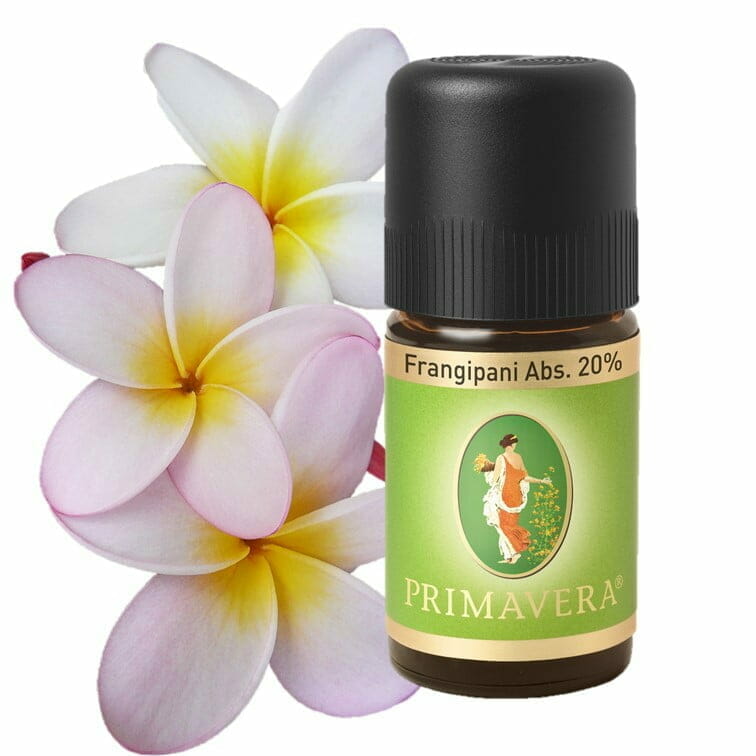 Frangipani Absolue Essential Oil 20% from Primavera
€

29,90 "*"