Anise organic Essential Oil Healthy by Farfalla
€9,90 "*"
Includes 19% Mwst.
(

€

170,00 / 100 ml)
Delivery Time: approx. 2-3 working days
5ml
Extraction type: Water vapour distillation
Origin: Egypt
Plant part: seeds
Botanical name: Pimpinella Anisum
Description
Anise organic Essential oil
Anise organic essential oil is extracted from the aniseed seeds.
The anise belongs to the family of the umbel blossoms, unlike other representatives of his family, fine white flowers form already in the first year, from which fruits grow
It is already mentioned in the Egyptian papyrus Ebers (ca. 1550 BC). Pythagoras, known as a great mathematician, described the anise as an herb against bloating and stimulating appetite. He came to us only in the 8th century through Charlemagne.
The aroma is determined by Anethol, which at 90 is the main component of the essential oil. Plants with a very similar aroma are fennel, star anise and the rarely used sweet dolde (Myrrhis odorata).
Parasites, however small, can become very dangerous to humans. By using anise bio-essential oil, not only lice, ticks, fleas and mites can be expelled, but also some other annoying companions. The use of aniseed oil against parasites is particularly pleasant, as the scent of essential oil is perceived by most people as beneficial.
There are many desserts, pastries and drinks that are refined with aniseed oil. You don't necessarily need to take the usual aniseed seeds for seasoning food if you bring the aroma of the anise much easily into your food and drinks using the pure essential anise edoil. When seasoning food, you must dose your aniseed oil just as carefully as with other applications. Otherwise, there would be nausea if you really just want to facilitate digestion.
In order to obtain a litre of aniseed organic – essential oil, 95 kilograms of plant seeds are required.
Before internal use, please consult specialist books, doctor or aromatherapist.
Effect Soul:
Anise is slightly antiseptic, antispasmodic, digestive, heart-strengthening and mucous. Anise oil is very soothing. It triggers childhood memories of happy days in some people – such as folk festival, Christmas, good sweets associated with anise. Relaxed with nervousness. Helps with nightmares Stimulates the Mind
Effect Physical:
Acts soothing, relieves convulsions, relieves pain, is stimulating to the body's fluid production: "Anis lets everything flow", e.g. breast milk, gastric juices or bile juices. Anise is slightly antiseptic, antispasmodic, digestive, heart-strengthening and mucous.
Anise oil has an estrogen-like effect, i.e. balancing and regulating the female hormone balance.
Anise goes well with Wild mountain lavender (Lavandula angustifolia) and Rose geranium (Pelargonium graveolens)
Ingredients: Ether, sesquiterpenes, monoterpenols, phenols, aldehydes, ketones, cumarine and furocumarine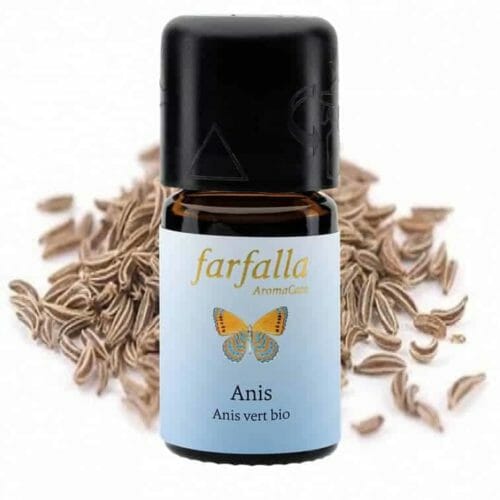 Anise organic Essential Oil Healthy by Farfalla
€

9,90 "*"